It's never been easier to add video to your Mailchimp email campaigns!
Playable is excited to announce the launch of the Playable Video App in the Mailchimp Marketplace, available now to all of Mailchimp's 13 million users.
Built upon Mailchimp's new app platform, the Playable Video App allows marketers to add video content – high quality video that plays automatically on all email clients – to their email marketing campaigns, all within the comfort of Mailchimp's new email builder.
After connecting your Playable account (or a Free Trial account will be created if you don't already have one), a new "Playable Video" app block will be available in the Mailchimp campaign editor.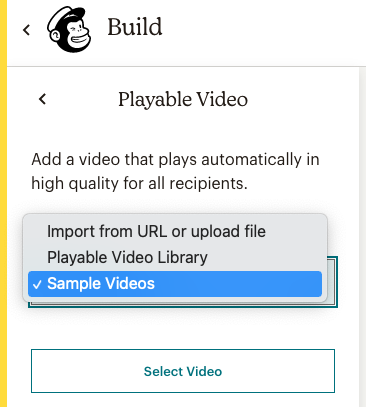 Add your video as you would any other type of content, and configure your video settings without leaving the editor.
You can upload any type of video file; MP4, MOV, HEVC, WebM, AVI, WMV, MKV, or OGG.
You can import your video from hundred of sites – including YouTube, Vimeo, Facebook, Twitter, and TikTok – to expand the reach of your video content to your best audience; your Mailchimp email audience!
Free sample videos are also available to spice up your seasonal holiday videos if you don't yet have your own video content. Watch out for a growing catalog of content carefully curated by Playable and Mailchimp.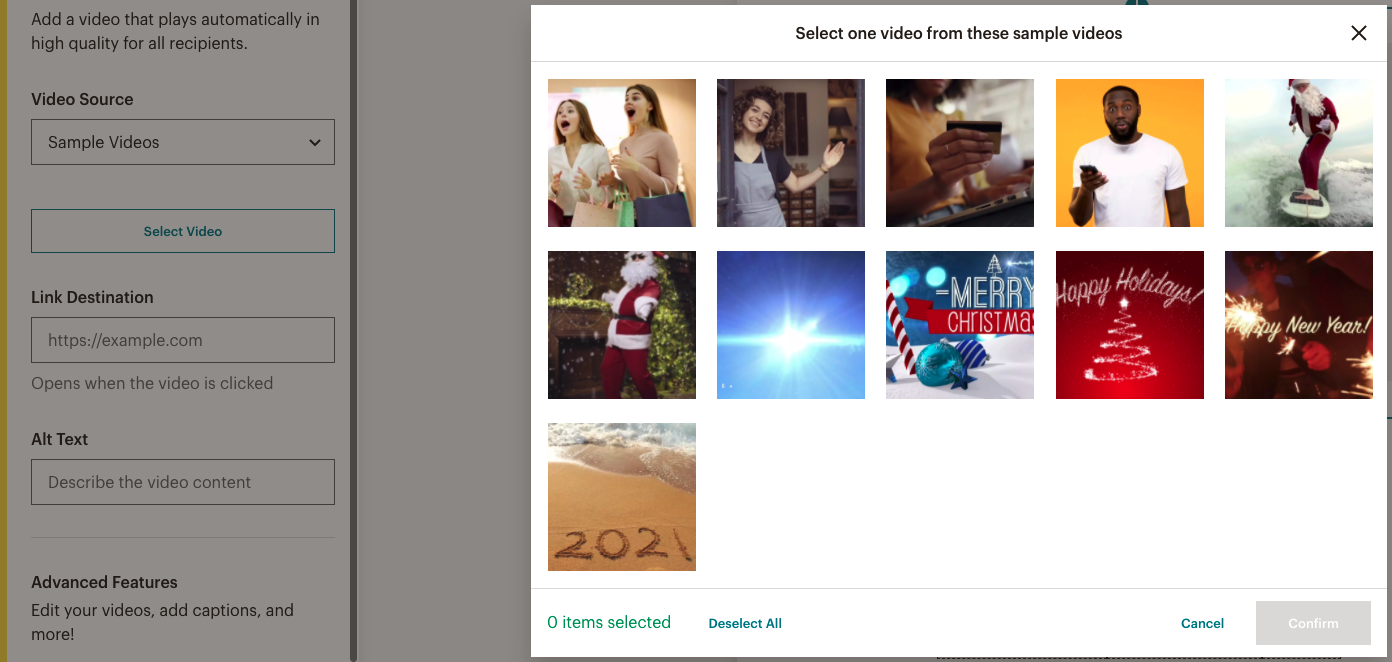 Video duration can be up to 10 seconds, or up to 30 seconds if you upgrade from the free trial to a paid plan. Video playback loops automatically until the viewer clicks.
The highest possible quality of video is delivered to each viewer, based on their device and email client. The majority of viewers enjoy MP4 or higher quality video, far superior to a static image or an animated GIF.
Videos work just like on Facebook, Instagram, etc. – your video plays automatically within the inbox, muted so as not to disturb anyone with sound. Engaged viewers can click on the video to link to a URL of your choosing, to your product purchase page, or to watch the video with sound, or whatever is best for your marketing objectives.
More details are available in the step-by-step tutorial.
Video Email allows marketers to achieve increases in email click-through rates and post-click conversion of up to 10x.
Embed videos into your Mailchimp campaigns using the Playable Video App, to create engaging video email campaigns that play automatically on all devices and all email clients. Increase your video views, get more clicks, sell more stuff.