Engaging Customer Experiences
Add Video To Your Braze Email Campaigns
Supercharge your email engagement.
Engage your audience, supercharge your conversion
and sell more product

with Braze Video Email

Video ❤️ Email
Easily add video to your email marketing campaigns.
High quality video that plays automatically on 99% of inboxes.
Patented Video Email technology works with any email platform.

Increase Video Views
Video is the most engaging content. Email is the most trusted channel.
Start sending your best content to your best audience.
Maximize the reach and ROI of your video marketing.

Optimize Engagement
Video stimulates interest and desire more than any other content type.
Video email viewers are better qualified to drive post-click activity.
Get more clicks. Sell more stuff.

Braze enables world-class customer engagement powered by flexible APIs, supported by enterprise-grade security and compliance.
Playable is an Official Braze Partner.
Playable is fully integrated with the Braze Platform, making it quick and easy to add video to your Braze email campaigns.
Learn more below, by quickly adding a free video to your Emarsys campaign, or by watching the video guide, or reading the step-by-step tutorial.
You can also also request a demo of how Playable works with Braze to power engaging customer experiences.
Start your 30-Day Free Trial today – no credit card required.
Get started FAST with one of our free sample videos for Braze
Watch The Video Guide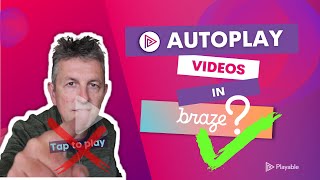 Let's Talk!


Frequently Asked
Questions
Is it possible to show video content in Braze emails?
Yes, high quality video can easily be added to your Braze campaigns by uploading the video to Playable and copying the generated Embed Code into your Braze email template.
Is Playable Video Email integrated with Braze?
Braze and Playable have partnered to integrate their products and enable all Braze customers to increase email engagement and conversion by adding video content to their email campaigns.
Can I use a 3rd party email builder to add video to my Braze email campaigns?
Yes, if you are not comfortable editing HTML code in Braze, you can use Stripo or Litmus or Taxi or other 3rd party email builders to export your video email template into Braze.
Why do marketers add video content to their Braze emails?
The benefits of using video content in email include increasing the engagement and downstream conversion of your email marketing, and also increasing the reach of video marketing beyond your other channels.
Enter your email address to send a sample video email to your inbox. Mouseover the video to preview the full campaign.
Video Emails Let You WATCH Your Inbox
VOD Video emails bring vibrant life to your audience's inbox. HD video with millions of colors playing on devices made for premium video engagements
Video Showcases The Colors Of Gardening
Don't be limited to 356 colors of an animated GIF. Use HD video to showcase the vibrant colors of beautiful gardens
Promote WATCH NOW With Video Trailers
TV For generations, video trailers are core in TV & Movie marketing. So it's no surprise HD Video Email Trailers are so successful with audiences!
Drive ROI On Existing Video With Email
Video email allows you to create multiple versions of your existing video content and use it across multiple video email campaigns driving your ROI