Get More Views Of Your Videos
Add Vimeo Videos To Your Email Campaigns
Get More Views, Get More Clicks, Sell More Stuff.
Increase your video views, increase your email response, engage your audience
and sell more product

with Video Email for YouTube.

Video ❤️ Email
Easily add video to your email marketing campaigns.
High quality video that plays automatically on 99% of inboxes.
Patented Video Email technology works with any email platform.

Increase Video Views
Video is the most engaging content. Email is the most trusted channel.
Start sending your best content to your best audience.
Maximize the reach and ROI of your video marketing.

Optimize Engagement
Video stimulates interest and desire more than any other content type.
Video email viewers are better qualified to drive post-click activity.
Get more clicks. Sell more stuff.
You might have tried Vimeo's feature to create a 6 second GIF from your video. And if you upgrade to a Vimeo Business Account, you can share that 6 sec GIF in an email sent via Gmail or some email platforms.
Playable agrees that video in email is good for your business.
Using Playable, you can embed a high quality video up to 30 seconds or more in your email marketing campaigns.
The video will autoplay in high quality on 99% of email inboxes, as soon as the email is opened.
Learn more below, by watching the video guide, or reading the step-by-step tutorial.
Start your 30-Day Free Trial today – no credit card required.
Frequently Asked
Questions
Can a Vimeo video play in an email campaign?
Yes, you can use your Vimeo videos for email marketing. Simply upload your YouTube video to Playable, then copy the Embed Code into your favorite email platform. Send your campaign in the normal way and your Vimeo video will autoplay within the inbox at the moment the email is opened.
What are the benefits of playing Vimeo videos in email marketing?
In addition to increasing the reach and ROI of your video marketing, adding Vimeo videos to your email campaigns also increases the engagement and conversion of your email marketing.
Can I use Vimeo videos in emails to Apple Mail, Gmail, & Outlook?
Videos are playable on 99% of all email inboxes, including Apple Mail, Gmail, Outlook for iOS, Outlook for Android, Outlook for Mac, and newer versions of Outlook 365 for Windows.
What duration should Vimeo videos be when sending via email?
Videos played in email campaigns should be between 10 and 30 seconds in duration, for optimal audience engagement.
What email platforms can I use to publish my Vimeo videos?
Vimeo videos - and other videos - can be added to email campaigns sent using all popular email platforms, including Mailchimp, Emarsys, Braze, Klaviyo, Salesforce Marketing Cloud, SendGrid, Constant Contact, Active Campaign, Get Response, Marketo, Emma, iContact, Campaign Monitor, MailerLite, Iterable, AWeber, InXmail, MailJet, OmniSend, Listrak and many more.
Enter your email address to send a sample video email to your inbox. Mouseover the video to preview the full campaign.
Learn More In Your Email With Video
Theme parks Cheyenne Mountain Zoo educates people about caring for wildlife and wild places with insightful and entertaining video email campaigns.
Enjoy The Zoo From Your Inbox
Theme parks San Diego Zoo's video showcasing the evolution of the Safari Park on its 50th anniversary highlights the powerful impact of video in email.
Video Displays The Service And The Fun
Restaurants Oscar's Steakhouse can showcase delicious dishes, refreshing drinks, live entertainment, and a glamorous ambiance in video email campaigns.
Dinner Is Served At LongHorn Steakhouse
Restaurants Grill season is here, and LongHorn Steakhouse's delicious cut of meat and most popular dishes will make customers crave with video emails.
Watch The Video Guide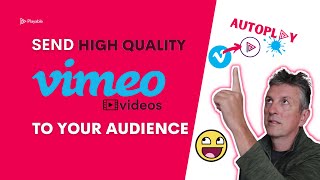 Embedding High Resolution Vimeo Video In Email Using Playable
Watch The Video Guide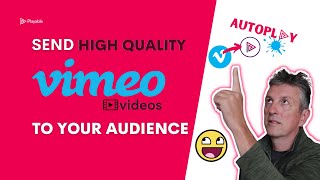 Easy Way To Get More Views On Vimeo Video With Email Marketing
Watch The Video Guide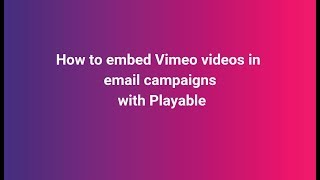 Video Email - How To Add A Vimeo Video Into Your Email Campaigns With Playable